A Safety Vest with Comfort,
Convenience, & Maximum Visibility
Get lightweight, breathable comfort that's easy to see in the poorest lighting situations. SONCO is proud to offer the Kishigo single-pocket safety vest – an economical and highly effective option for potentially hazardous zones.
Hi-Viz Traffic Safety Clothing for the Whole Crew
Being seen is priority number one, but Hi-Viz workwear requirements shouldn't interfere with comfort or
productivity. Key benefits of the Kishigo single pocket include: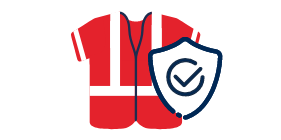 Materials and stitching are high quality to resist wear.
Front pocket: Keep eye protection, walkies, or other important gear right up front.
Cooling mesh: Porous fabric helps maintain airflow for shift-long comfort, can fit easily over coats.
Ample reflective striping: Wider than many others and span the chest, back, arms, and waist.
Safety Workwear That Stays Cool
Class 3 safety vests are suitable for crew members working in the most critical, high-stakes areas where visibility is a concern – the highway.
The Single-Pocket Zipper Safety Vest is fluorescent lime with wide reflective strips down the from, back, sleeves, and waist.
Versatility and Comfort
Serves as a reminder to the worker that safety is key. HiViz PPE is one way to enter "work mode" and keep safety policies at the forefront of their attention.
Safety vests can prevent the shortening of shifts. As seasons change and it gets darker, earlier, crew can stay on the job by putting on their hi vis safety vest.
Traffic Safety Compliance Saves
Lives. SONCO Can Help.
According to the National Safety Council (NSC), 2020 marked a 16-year high in work-zone crashes. The year saw 102,000 accidents, which claimed the lives of 857 people and injured an additional 44,240.