Flagger Ahead Roll-Up Signs
Symbols on signs protect flaggers, but when you want to do them one better, let drivers know exactly where they are. The distance overlays available for our Flagger Ahead roll up signs prevent traffic from injuring crew members.


Roll Up Signs Set Up Demonstration


The New Standard in Roll-Up Traffic Control Signs


Bone Safety roll-up signs incorporate details that create an incredibly long-lasting sign that's easier to use.
Border legend allows for quick
identification without unrolling
Corner pocket holds the sign frame
firmly in place while protecting all
four corners for increased durability
Nylon strap attaches to the sign
and rib assembly to eliminate the
sail effect caused by back wind

Roll-Up Traffic Signs in Your Finish of Choice
The range of finishes available for Flagger Ahead roll-up signs suits daytime, nighttime, or combined conditions.

Choose Premium Mesh for maximum strength, mildew resistant daytime use. Opt for Diamond Grade when you need reflective sheeting that lights up the night. For the best of both worlds, try Marathon, offering extra Hi-Viz fluorescence in daylight and reflectivity at night.

The Right Size for Any Application

When deciding whether to use 36" or 48" temporary warning signs, transportation engineers should consider the type of roadway.
Roadway Regulations

According to the Manual on Uniform Traffic Control Devices (MUTCD) here are the different types of roads:
Conventional Road: A street or highway other than a low-volume road,expressway, or freeway.
Low-volume Road: A facility that serves fewer than 400 vehicles per day on average.
Expressway: A divided highway with partial control of access.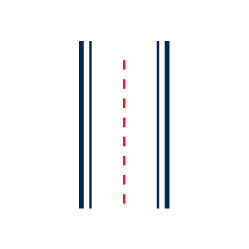 Freeway: A divided highway with full control of access.

The Roll-Up Signs True Size

Understanding the real size of a roll up sign - open and rolled - in comparison to a person's height.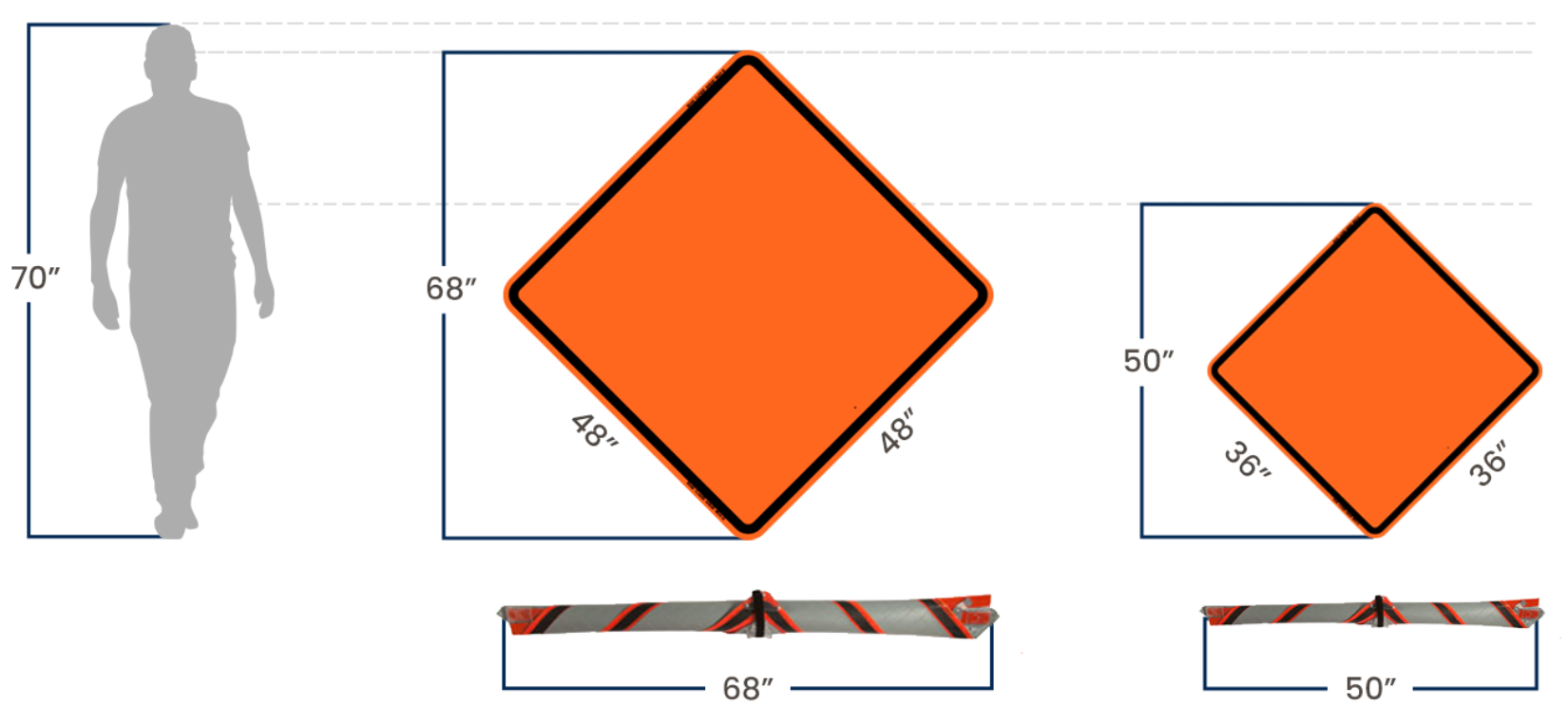 No Matter The Application, We Have The Right Material
Standard Mesh – The most affordable option for daytime use only.



Non-Reflective – Fade resistant vinyl is an economical option for daytime use only.



Standard Reflective -  Ideal for day or nighttime usage.
Premium Mesh – This pigmented mesh is breathable, resists mold and mildew, and is non-reflective for daytime use only.
Marathon – Bright, longlasting fluorescence. Marathon fluorescence is less likely to lose power over time, making it a safer long-term investment.
Diamond Grade – Another premium option. Lightactivated, fluorescent, wideangle prismatic lens reflective sheeting for maximum daytime brightness.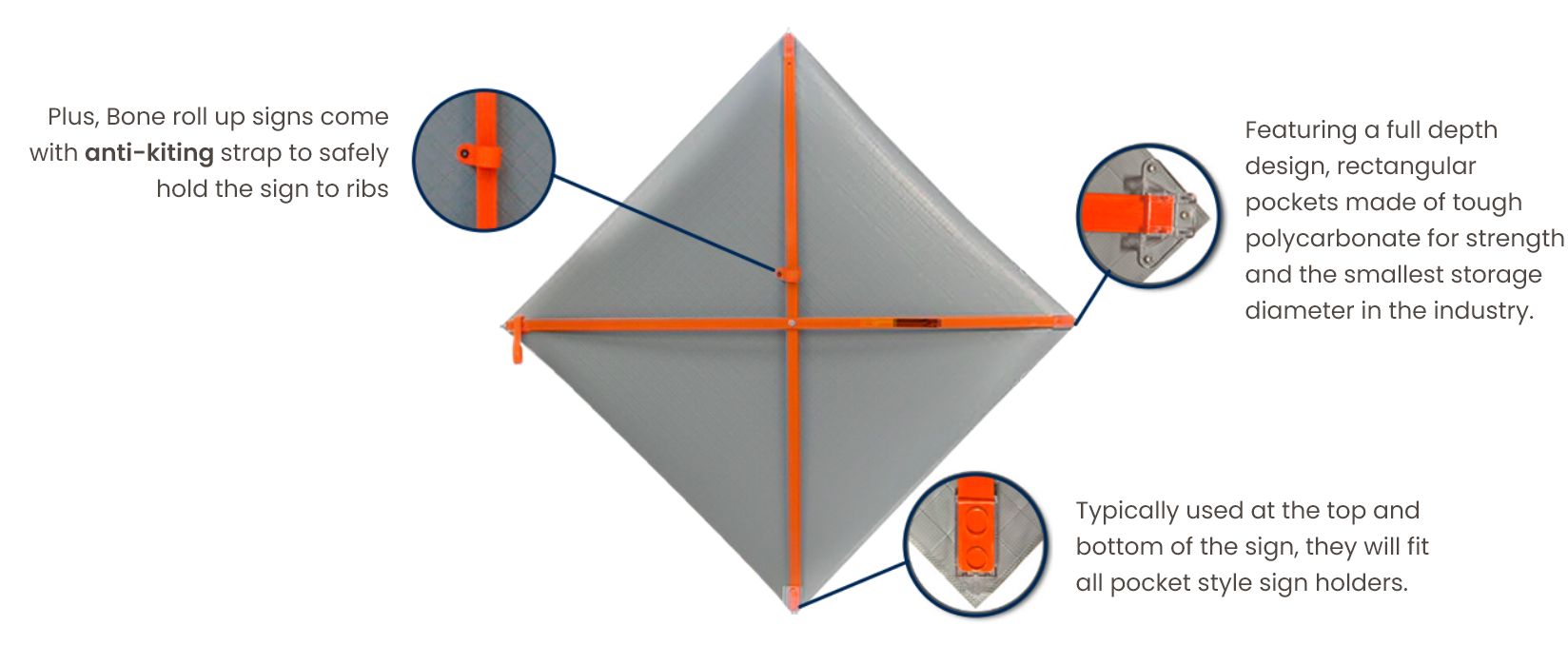 Many Signs in One: Overlays
The overlay option allows for multiple messages to be displayed on a single sign.

The overlays are made from the same material as the sign and come with velcro strips on the back that enable quick and easy.

Size compatible overlays with weatherized snaps display specific distance (state specifications may differ)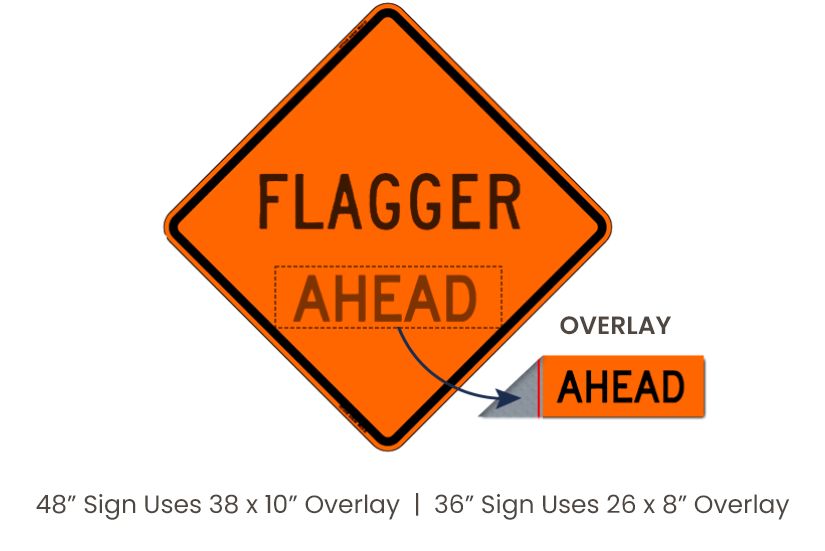 Strong and Sturdy: Roll Up Sign Stands
The whole Bone Roll Up Sign line is compatible with Bone sign stands. They are NCHRP-350 certified, making them tested and approved for use on the national highway system.
Choose from Springless, Single Spring or Dual Spring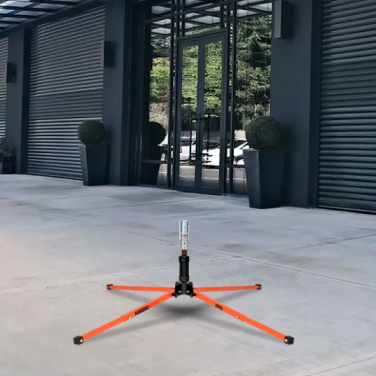 Five Types of Workplace Safety Signs to Protect Your Business
Some companies post OSHA signs to comply with regulations and avoid costly penalties and business interruptions. Others recognize the vital purpose of these signs: creating a secure environment for workers, clients and the public.